"Queen of Hearts"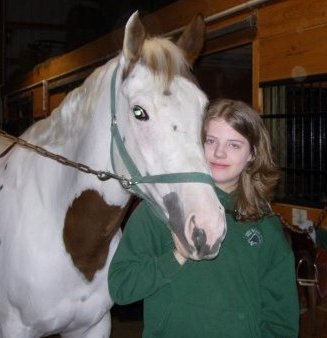 Krista is the proud new owner of Gypsy, a beautiful white and brown paint mare. The minute Krista layed eyes on the heart on her chest, she fell in love. Gypsy is known as "Queen of Hearts" on the show circuit and has royally won the hearts of all who watch this winning team. Hands down, they make a wonderful pair.
"Lightnin Hopkins"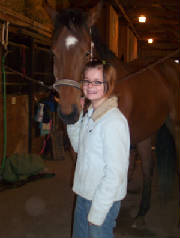 Charlie is now owned by Joanna Augustyn. She decided his show name would be "Lightin' Hopkins" after her favorite blues guitarist, which was suggested by her brother. He is a bay thoroughbred horse and stands close to 16 hands. What a great pair they make!
"Perfect Match"
Cowboy has found wonderful owners in Gigi and Vicky Prieto. He is their "Perfect Match," which just so happens to be his show name. Cowboy is a Tobiano American Paint Horse who has made the transition from Western riding to English riding in no time. This mother and daughter team has made Cowboy very happy.
"Bright Eyes"
Here is the new joy of Becky's life! Jack is a registered Quarter Horse. His sorrel coloring and his "Bright Eyes" are two of his most lovable charcteristics. He stands 15 hh and has just turned five years old. His gentle nature and his affection for his new owner ensures that these two will be together forever. We are so happy for both of you! Your future together looks very "Bright."

"Million Dollar Baby'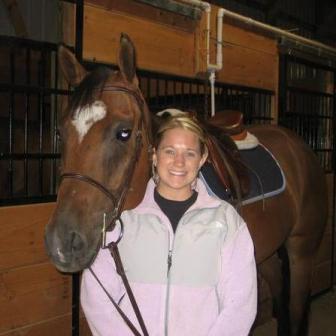 Well, here he is! Kirsten's new bay horse is named "Rocky" and he is just what she has been waiting for. Kirsten and Rocky have been winning on ISC this summer and are beautiful together. His new show name is "Million Dollar Baby" which doesn't begin to describe how priceless he is. Congratulations!
"Paint Me Chrome"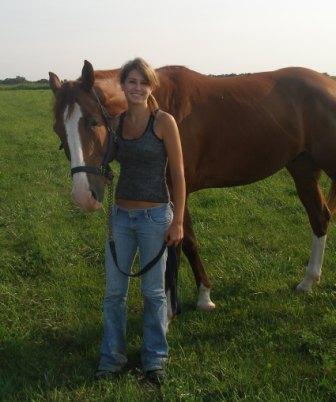 Blake has a new owner! This chestnut horse with "a lot of chrome" is so happy to be with Brienne. It is a pleasure to watch these two become a solid riding team together. His show name is "Paint Me Chrome" and he has the sweetest disposition. He just loves being with Brienne. Best wishes to you both.
"Casanova"
Julia Kaye and her new horse Moose look wonderful together. Moose's show name is "Casanova" and anyone who knows him, knows why. He is a dapple grey gelding who will steal your heart away with one look. He learns quickly and is looking forward to competing in the 2006 NIHJA show circuit. Good luck, Julia & Casanova.
"Star"
Congratulations to Lauren on her new riding companion, "Star."
Star is a grey mare warmblood/ thoroughbred-cross who is beautiful to behold in the arena. You only need to watch Star and Lauren riding together to know that they are a "match made in heaven" and are a team to be contended with on the NIHJA circuit. We "wish upon a star" that all your dreams will come true, Lauren and Star.
"Rhapsody in Blue"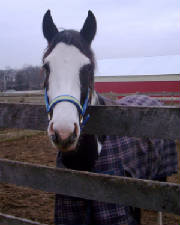 Contratulations to the Beaupré family on their new addition, Blue. Blue is a beautiful black and white registered Overo American Paint horse. She has the sweetest disposition. Her show name is "Rhapsody in Blue" because she brings so much joy to her new family. Best of luck with your little filly.