"Dare to Dream"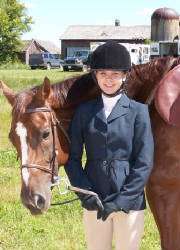 Jackie now belongs to Louisa, who has "Dared to Dream" that she would one day own a horse of her own. Jackie and Lulu won several Championships this summer at the many horse shows offered at Cross Winds Farm Equestrian Center. And it was "Valiantly Dun." Please join us in congratulating Lulu and Jackie. There will be much more to come from these two.
"No Small Affair"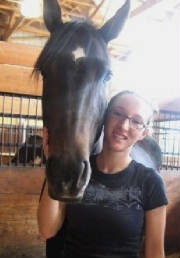 Demi was our newest addition to the barn and she has already found a magnificant partner. Elisa knew that the relationship she developed with this mare was "No Small Affair" and couldn't wait to make Demi her very own. Demi was foaled on April 2, 2004 as Major Time McCue. She is black with two white socks. We are very happy for both of you.
"Simply Perfect"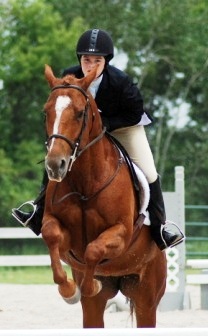 A wonderful surprise awaited Kathryn at the last horseshow. Her parents presented her with a horse of her very own -- C.C. This chestnut AQHA is a little powerhouse and "Simply Perfect" for Kathryn. It will be great to watch this competitive team grow-up together. Happy Birthday, Kathryn.

"Abby Road"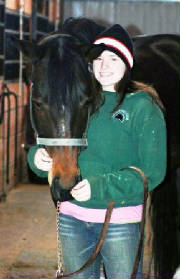 Abby came to Cross Winds Farm Equestrian Center just a short time ago. At that time, Claire was looking for that life-time partner and she immediately fell in love with this special mare. As she crossed that "Abby Road" they quickly became inseparable and it was just a matter of time before their partnership was official. Congratulations! Great things await you both.
"Ramblin' Man"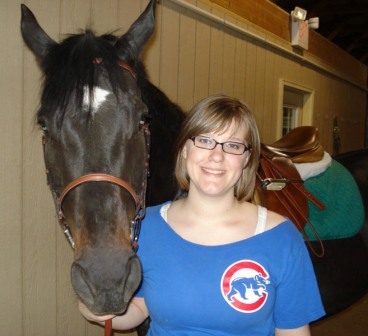 Hunter at long last has a new home with Amy. This big beautiful bay is a wonder to behold. He is stylish and moves like a champion. This "Rambin' Man" is just the horse Amy was looking for. We are so happy they found each other. Best wishes to you both and congratulations.
"A Night on the Town"
Well here he is, the horse of Katie's dreams. A long search has resulted in Bouncer being Katie's new love. This chestnut paint is just a baby at 3 years old and I am sure they will have many good times together. "A Night on the Town" sounds like lots of fun! Party-On, Katie.